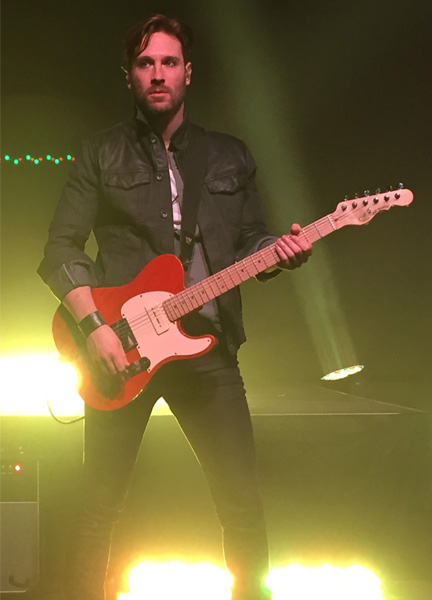 Welcome to toddmccool.com, the official website for musician Todd McCool!
My goal is to spend my time enhancing the lives of others by creating and performing music. I'm continually learning and honing my craft as an artist, seeking to move people emotionally and positively through lyrics and sound. I truly love playing music with a variety of like-minded people; the profound connections I've made with both colleagues and fans continually push my creative and professional standards to new levels.
– Todd McCool
Todd is a guitarist, songwriter, and (occasional) singer of pop, rock, funk, folk, and dance residing in Southern California. He has recorded with Grammy nominated and award winning producer/engineers Geoff Emmerick (Beatles, Paul McCartney), Tony Papa (Weird Al Yankovic) and Robb Vallier (Wailing Souls, Gin Blossoms). Todd's original compositions have received music placements on television shows such as Melrose Place, Beverly Hills 90210 and Ugly Betty. He also done live performances as the guitarist for major label artists and other independent artists with music placements in feature films and television.
Currently, Todd performs on a regular basis with several top 40 and classic rock/pop cover bands, including a handful of award winning agencies; and he has been involved as part of an original, independent folk-pop trio called Faultlines. Their latest EP, Telephone Philosophies, featured Todd's songwriting.
Todd was also part of the regular cast for the entire run of the Mad T Party Band at Disney's California Adventure, and he's been a regular band member for Six Flags Magic Mountain's Velocity Band as well as several other LA area groups, including Uptown Live, The Young Guns, The Lowdown (West Coast Music), 80z All Stars, Undercover Live (winner of WeddingWire's Couples' Choice Awards for five years straight) and many more. He's performed numerous times with Adam Michaelson (lead role from Broadway's Movin' Out), Mr. Mister Miyagi (80s live band karaoke), the house band at Howl at the Moon (a national dueling piano bar), and appears in several videos with YouTube sensation Post Modern Jukebox (currently with 2.5 million subscribers).
Todd has performed with major label artists Berlin and Mark McGrath from Sugar Ray, and he's opened for Christina Perri, Easton Corbin, and Sixpence None the Richer. Additionally, Todd has performed in bands with finalists from American Idol and The Voice, touring members of Ariana Grande, Babyface, Rhianna, Eminem, Alice Cooper, 30 Seconds to Mars, Goo Goo Dolls, Peter Gabriel, Billy Idol, Kool & the Gang, Jennifer Lopez, LeAnn Rimes, Ringo Starr, Dave Stewart, Rod Stewart, Sting, Frank Zappa, Brian McKnight and many more.
Todd's 2016 Stats: 296 performance gigs across 38 different groups, 13 video shoots, and multiple recording sessions