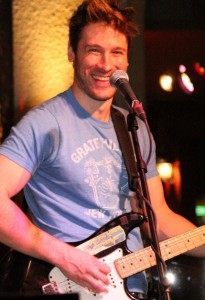 Welcome to toddmccool.com, the official website for musician Todd McCool!
Todd is a song writer and a pop, rock, funk and acoustic guitarist residing in Southern California. He has recorded with Grammy nominees and award winners Geoff Emmerick (Beatles, Paul McCartney), Tony Papa (Weird Al Yankovic) and Robb Vallier (Wailing Souls, Gin Blossoms).  His original compositions have received music placements on television shows such as Melrose Place, Beverly Hills 90210 and Ugly Betty. He also has also performed live as the guitarist for other independent artists with music placements in feature films and television.
Todd performs on a regular basis with several top 40 and classic rock/pop cover bands including the Mad T Party Band at Disney's California Adventure, 80z All Stars, the Adventures of Todd and Niki, Undercover Live (winner of WeddingWire's Couples' Choice Awards for five years straight), Identity Theft, Adam Michaelson (from Broadway's Movin' Out), Mr. Mister Miyagi (80s live band karaoke), the house band at Howl at the Moon (a national dueling piano bar), Tomasina (a staple at Disneyland), and Good Cop Bad Cop (highly acclaimed Los Angeles area band, listed on Gig Masters) among others.
He has performed with major label artists such as Berlin, Sixpence None the Richer and Better than Ezra, just to name a few.  Additionally Todd has performed in bands with touring members of 30 Seconds to Mars, Five for Fighting, Goo Goo Dolls, Peter Gabriel, Billy Idol, Kool & the Gang, Jennifer Lopez, LeAnn Rimes, Ringo Starr, Dave Stewart, Rod Stewart, Sting, Frank Zappa, Ringo Starr and many more.